Nemo's Adventures in Maine Dlog 2007 SeaBattical
About Nemo
Nemo is a beagle mix (a.k.a. Pub Hound) adopted from the Sterling, MA Animal Shelter, who is "Captain Nemo" on our sailboat, a Cape Dory 36 , Mahalo. We sail from Falmouth Maine.
The 2007 Maine Trip
Our trip starts on Saturday August 4th 2007. My people have been gathering up lots of stuff for the trip. I just hope they don't sink my boat with all the stuff they are bringing. They seem to have a good supply of my favorite Dingo Bones . They have a whole case of wine and sake! Dad thinks he might catch some fish to make sushi , I just hope they bring some other food or we will go hungry!
Day 1 - Saturday August 4 - Falmouth to Harpswell (Casco Bay)
This morning I was quite excited as the truck filled with stuff. I did not want to go for a walk this morning as I was afraid I was going to miss something. I went to the end of the driveway, but that was it, then ran back to the house. I was so worried they'd leave without me. After a couple hours, and a stop at Dunkin' Donuts, we ended up at that marina where our boat is. We loaded all our stuff on the launch - we almost filled it up. This nice launch driver who lives in Hawaii most of the year brought us out to our boat. We loaded all the stuff on, surprised the boat didn't sink. Surprisingly my people found places for most of it. Then, we went back ashore again, to the truck. To the grocery store for more stuff, and to the bookstore so Melissa could get the final Harry Potter book for reading on the trip. Then back to the boat. We had a nice sail to Potts Harbor, though we left the engine on as we needed to get the refrigerator good and cold. We couldn't hail anyone from Dolphin Marina though, and the wind picked up to 20-25 knots from the South so that became a very uncomfortable place for the boat. However we did do a successful man-overboard drill to recover Rich's hat. Then, we moved on to Harpswell Harbor. There were only a few boats anchored there and it was quiet and peaceful. The cruising guide said it wasn't that scenic or special of a place but it was quite nice. The wind also calmed and there were no waves in there. I discovered that the new helmseat Melissa made for Rich actually fit me perfectly and puts me higher so I can see the shore better. I nap in it whenever I can. I think she really made it for me. Later at night there was some illegal fireworks going off from the beach that were pretty cool. It was just like the 4th of July, maybe it's a month later in Maine?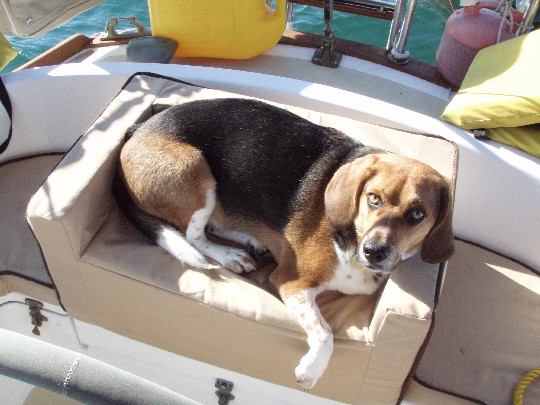 Day 2 - Sunday August 5 - Harpswell to Riggs Cove (off Sheepscot River)
Had a pleasant sail over to Riggs Cove, though had to motor some of the way due to light winds. I slept a lot. We saw a seal and porpoises. A whale watch boat came by close to us and the people waved and some took pictures of me. Got a mooring from Robinhood Marine, and then Melissa had the fun task of cleaning out the dinghy which had presents from the seagulls on it and some green water in it. Yuck! After it was all clean we went ashore for a walk. Then we ate dinner and hung out and went to bed.
Day 3 - Monday August 6, Riggs Cove
Went ashore for showers and a walk this morning, and decided to stay put as the weather was predicted to be bad, and NOAA issued a "small craft advisory". I guess we are small craft. It started to rain by 1 pm and rained heavily with strong winds and thunder from about 3-5 pm. We stayed inside and slept and my people read books. They decided to stay aboard for dinner, to stay dry, rather than walking to the "Robinhood Free Meetinghouse" for dinner. They say it's an excellent restaurant but about a mile up the road and they didn't want to risk more rain. I guess if they called it the "Robinhood Expensive Meetinghouse" no one would eat there. During the rain, my people got bored and had the "what 5 people would you have over for dinner if you could" discussion. They came up with : Bill Clinton, Jon Stewart, Sandra Bullock, James Gandolfini, and Bruce Springsteen. Since Gandolfini and Bruce both know Stephen Van Zandt they could bring him along. I don't know who any of these people are but if they bring biscuits they'd be okay with me. It was a quiet night on the mooring, the rain and wind stopped. Nice sunset.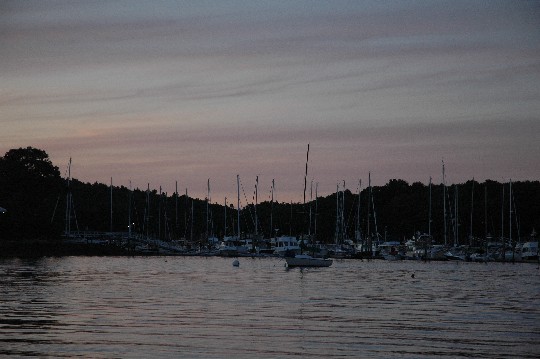 Day 4 - Tuesday August 7, Riggs Cove to Lewis Cove (Linekin Bay) off Boothbay
This morning it was very very foggy. We went ashore for a walk and showers, then at 9 a boat came to the docks with all sorts of bread, pastries, vegetables. It was a little expensive but the cinnamon rolls were very good. My people also bought corn and tomatoes. We like to give the locals business when we cruise. Melissa brought the laptop ashore so she could use the wifi to publish my dlog so far. I can't believe it's already day 4. The fog has lifted so we are going to go somewhere today....... (Later) Well, the fog lifted in the harbor but once we got out in the Sheepscot River it was back again. On came the radar and the automated foghorn. You could just see some lobster pots. We motored slowly.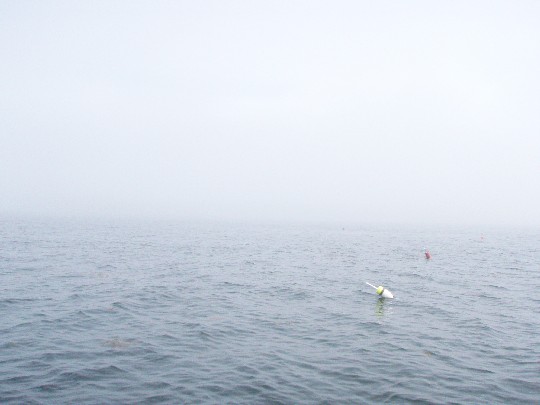 As we got near the open ocean the rolling waves started. I didn't like that much and got on the cockpit floor. I didn't get sick but I thought about it. The chartplotter and radar definitely got put to use. Don't know how the sailors did it in the old days. We managed to pick our way up into BoothBay, then into Linekin Bay, where the fog lifted enough to see the shore if we were close to it, then we could find the mooring our friend has there that he said we could borrow. He gave very accurate coordinates so we found it right away. After getting settled in, with my people having rum drinks, we went ashore (yeah!) at the State Park nearby. Oh, did I mention that my people noticed a broken batten in the mainsail today? It is pretty new so we think it is defective. Anyways, Melissa carried that around as we tried to find a place in town to get a new one. I guess the only sailmaker is in East Boothbay, a few miles away, so we are going to try to find him tomorrow. We walked around the touristy town of Boothbay, and my people found a place that let them grab a bite to eat with me, sitting outside. (The "Boat Bar"). They gave me a bite of the cheeseburger because I was so good. We met other vacationers and talked about how wonderful Maine is (in the summer...). Then back to the boat for a power nap after I played with other dogs in the park for a bit. Then we ate more, and went to bed.
Day 5 - Wednesday August 8, Linekin Bay (Lewis Cove)
Guess what? More fog today. And rain and thunderstorms predicted (it's been raining since about 5 am) so we are staying put. Melissa found "free" internet with her new wireless card with the antenna, so she could type more of my dlog. Oh, did I mention we heard two boats on the radio talking the other day, and one of them was named "Sea-battical". That's a good name for Melissa's sabbatical - Seabattical. They googled for sailmaker's in Boothbay on the internet and found one in East Boothbay and called him up. He has a batten that's slightly bigger in diameter than the broken one, but we think it'll work. We are going to dinghy across the bay later when the rain lets up a bit. He gave us directions, said it's about a 15 minute walk from the boat ramp. Can't see nothing though in this fog so I told my people to take the GPS so they don't get us lost. (Later...) At about 1 pm the rain finally stopped. It was still a bit foggy but we all piled in the dinghy and headed off to find the sailmaker with our old broken batten. If you don't know what a batten is, click here: http://en.wikipedia.org/wiki/Battens After a long dinghy ride, and a 15 minute walk, we ended up at the sailmaker's. Me and Rich waited outside while they sewed the new batten in the old sleeve. We stopped at the General Store on the way back for water and lemonade. By now the sun had come out and the fog had lifted. After a long dinghy ride back, I napped, my people relaxed and we had steak for dinner.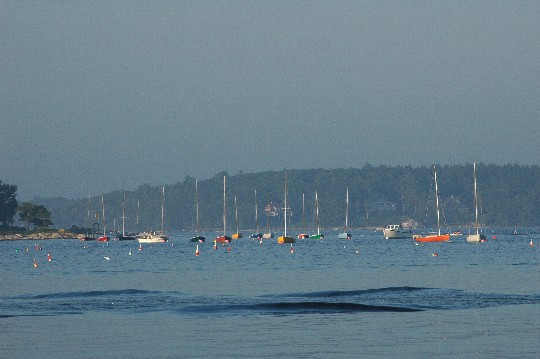 Day 6 - Thursday, August 9 Lewis Cove to Round Pond, Muscongus Sound
After another walk into Boothbay for breakfast and some groceries, and meeting new dogs again we left Lewis Cove and headed out. We motor sailed with the headsail up, and as we were leaving going around the point, a bad motorboater with a total moron on it almost hit us. At first it seemed like he was going to pass us on the starboard side, then, he crossed right in front of us, then, he turned back and aimed at us! Melissa, at the wheel, didn't know what to do, since he was going so fast and so erratically, to try to avoid collision. Then, at the last second he turn and came down the side of us. Never slowed down, and didn't make any eye contact as my people got very excited and waved and screamed at him. He had a boat full of kids too. We think he was drunk, at least very very stupid. Probably renting a boat from Boothbay. It scared my people. After that the rest of the trip was uneventful. We called ahead to Padebco on Round Pond to get the scoop on their moorings. It was a nice active harbor, with lots of lobster boats, and lots of Cape Dory's there. We went ashore for a lobster dinner, the first of many I'm sure. I don't like it much but I like to lick the butter bowls when they are done. The harbor quieted down a lot after 9 and we got a good night's sleep. Here is sunrise the next morning: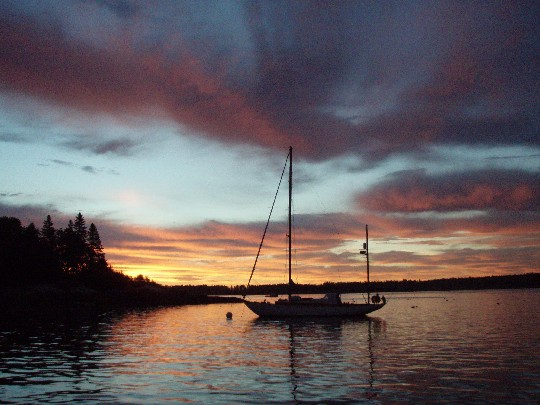 Day 7 - Friday, August 10, to Tenants Harbor
We went ashore this morning for a walk to the store, which didn't have much "real" food. Then, with no wind, motored uneventfully to Tenants Harbor. We were going to anchor in Long Cove, but decided to go into Tenants Harbor as we remembered a good store there. As we made our way in, saw another Cape Dory on a mooring...it was Realization! I was excited, but got even more excited when Cathy and Bruce dinghy'd over and I jumped in the dinghy with them and gave them kisses and squealed and made all sorts of fuss. Then we all went ashore, they had just sailed overnight so they grabbed a meal, we went for a walk. Later, after dinner, we went ashore again when my people heard live music. The "Dock Boys" were playing at the Cod End. It was a great day with three shore visits!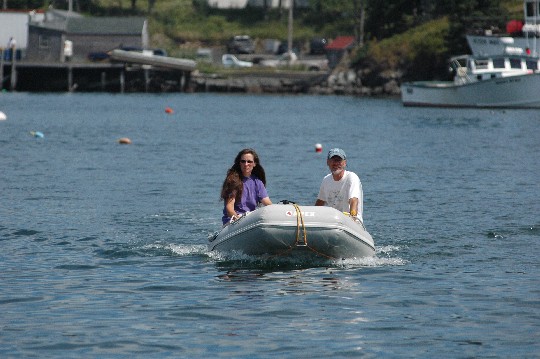 Day 8 - Saturday August 11, to Port Clyde
After a lazy morning, and lunch and shopping, we motored over to Port Clyde with Realization. Another typical Maine harbor, with ferries and fishing boats and sailboats. Bruce and Cathy came over for "Happy Hour" and I greeted them again like I hadn't seen them in years. After then, we went ashore and decided to have Ice Cream for dinner. I got a little bit of Cathy's Pumpkin Pecan cone after she dropped the last bit of it, and my own little dish of Vanilla. Back on our boat I whined for at least a half hour because Bruce and Cathy went back to their own boat and not to ours.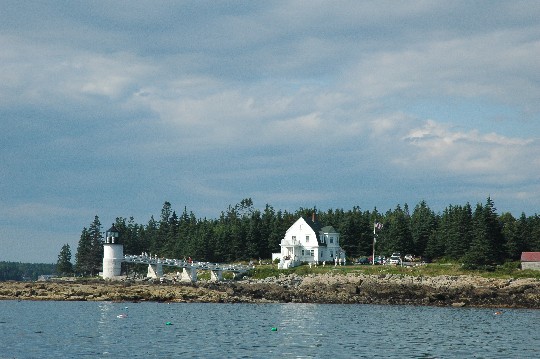 Day 9 - Sunday August 12, Port Clyde to Maple Juice Cove
This morning we went ashore for showers and shopping after saying hello to Cathy and Bruce. I watched the two dogs from the boat next door go swimming off their boat - their people have a swim platform. I told my people to get me a boat with one of those... When we started the engine this morning the instruments weren't working right - autopilot screen was blank and my people spent some time troubleshooting. Finally gave up determining the exact cause so we could motor over to Maple Juice Cove and figure it out there. When we got there, found that the autopilot control head wasn't working and "corrupting" everything else, so when that was disconnected everything was fine. It was cocktails over on Realization then dinner back on Mahalo. Melissa hung her tacky "lobster lights" which was fun.
Day 10 - Monday August 13, Maple Juice Cove
This morning, I was going to catch up on the dlog, but the laptop screen was blank, which frustrated Melissa. Rich tried to troubleshoot and we asked Cathy if she had any ideas. She thought it was a power issue and came over with a different power adapter to try. Then we took the battery out and put it back in and I guess it was a flaky connection because that seemed to do the trick. Then my people trimmed my nails today. I don't like that very much and I squirm around a lot. Rich nicked one and I bled a lot. Today all these other boats that look like ours started arriving and anchoring all around. I went over to Realization and met a bunch of new people...it was exciting but I needed to do some business so my people took me back to our boat. Then a big thunderstorm moved through and everyone hunkered down. Then my people put me in my crate while they left for something called a "potluck".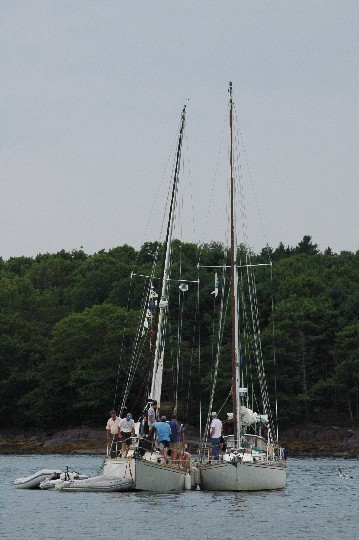 Day 11 - Tuesday August 14, Maple Juice Cove to Poorhouse Cove
Had a nice sail this morning most of the way to Poorhouse Cove. I love this place because Carl (Pistachio, CD30) has a camp here and I spent lots of time ashore, while they had a big lobster dinner and barbecue. There were some kids, so I got played with a bit, and had lots of new faces to lick. Unfortunately, our friends on Windhover went aground when they got to this shallow cove, but luckily a local lobster boat towed them off and not too much damage was done and they were able to enjoy the rest of the cruise.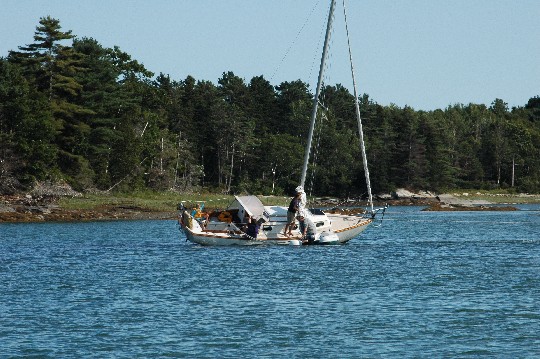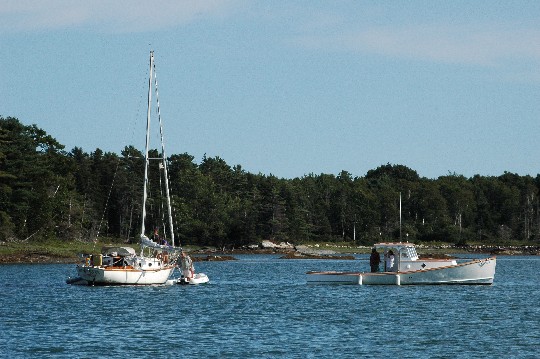 Day 12 - Wednesday August 15, Poorhouse Cove to Pleasant Cove
Today we went ashore again, after Dean and Marilyn (Loda May, CD31) came to visit for a bit. Rich was able to order the part we need from Hamilton Marine and it will be in Rockland Monday. We motored/sailed to Pleasant Cove with the same group of boats still. Then the kids came by our boat for a visit. Tonight there's going to be another potluck, Rich is going to make chili. (Later...) I was bummed, it was in the crate again while my people left. Something about it being hard to eat and socialize while watching me. A big thunderstorm went through while they were gone but I did okay. Was glad to see them when they got back though!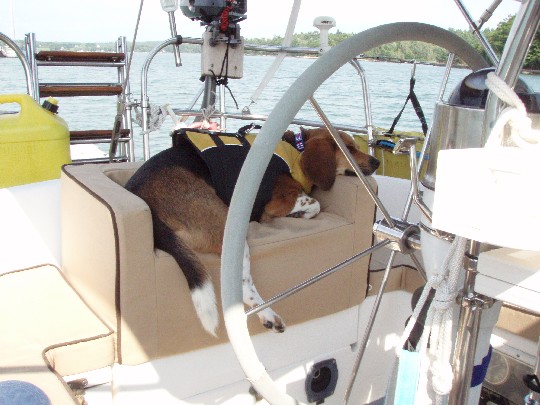 Day 13 - Thursday, August 16, Pleasant Cove to Tenants Harbor
Today we left the Cape Dory group - they were continuing west to harbors we'd already been to, and we wanted to make more progress back "Down East". After having to motor a bit down the Damariscotta River, and then against some unfavorable winds, we were able to raise sail and sail a bunch of the way to Tenants Harbor. I slept most of the way except for some chasing of flies in the cockpit. Got one of the last moorings from "Cod End". Then more people came in and started picking up private moorings (which they were later kicked off of). We went ashore to try to find the laundromat only to find it had been closed a few years ago. We also went back ashore for dinner, I was very good and lots of people said hello to me. I got french fries when they were done. When we got back some idiot had anchored in front of us in the middle of the mooring field, so Rich had to go tell him to move. He did, and good thing, because later a thunderstorm passed through. I guess all the "no anchoring" signs and the fact that it's a tightly packed mooring field weren't enough for this guy.
Day 14 - Friday, August 17th, Tenants Harbor to Rockland
We decided to move on to Rockland, as there was no laundry in Tenants, and the weather was supposed to be bad on Saturday. We went for breakfast ashore before leaving, of course I got some bites. I think there was some cranberry scone and a egg sandwich but I cannot be sure as I ate it so fast. We motored up the Muscle Ridge Channel to Rockland, wind was on the nose, but a favorable current, so we made it there quickly. At least it seemed quick, I napped the whole way. Penobscot Bay is so nice as there are mountains and schooners around. We picked up our friends mooring, and went into town to assess the laundry and restaurant situation. It's my people's 16th wedding anniversary so they were going to go out. After spending a few hours ashore it was back to the boat for showers and then my crate came out again :-( but my people weren't gone too long - they said they had an excellent dinner at Amalfi, but they didn't bring me anything. We all went to bed early, and thunderstorms came overnight.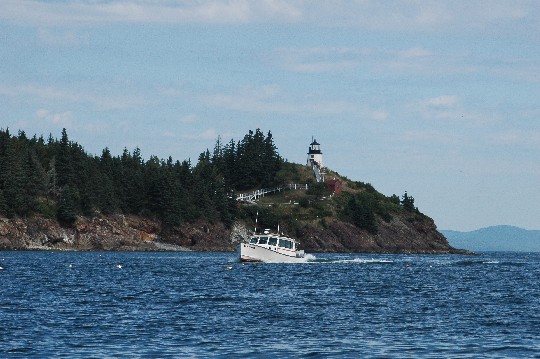 Day 15 - Saturday, August 18th, Rockland
Today it was still raining and very windy. We all slept in, then Rich made pancakes! Then it finally stopped raining but still blowing hard, but we went ashore with laundry anyways. Melissa got a message on her cell that the autopilot part was in, even though it wasn't supposed to be until Monday. So that gives us more options as to what to do after today. It's still quite windy and laundry took all day (one washer/dryer) so we'll stay here again tonight. They ate early dinner at the Black Bull which lets me go in and hang out in the bar. The bartender really likes me and I think she's neat. World's largest lobster: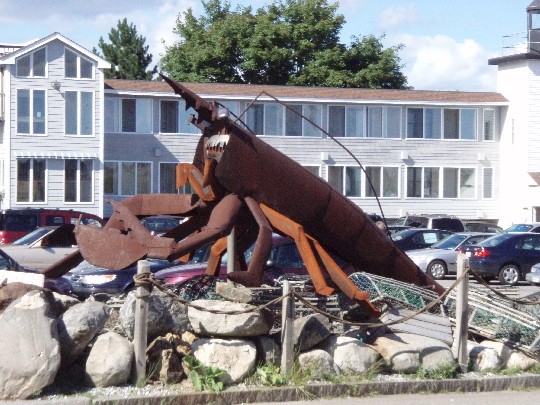 Day 16 - Sunday August 19, Rockland
The wind has calmed down a bit from yesterday. We went ashore this morning to do more laundry - the bedding and towels, and get breakfast. Rich made another trip inside Hamilton Marine....it's like a dog treat store for people I guess. While we were waiting for Rich inside one store some woman started howling at me on the street. I think she was trying to get me to howl but of course I did not. I just thought she was really weird. I was anxious to get back to the boat by the early afternoon when we did as it was prime naptime and I was missing it. My people decided to stay here one more night and go out for sushi tonight. They are running low on provisions but there's no good place to get them without a taxi ride, which they cannot do with me. So they are going to try the next port. My favorite lobster boat so far: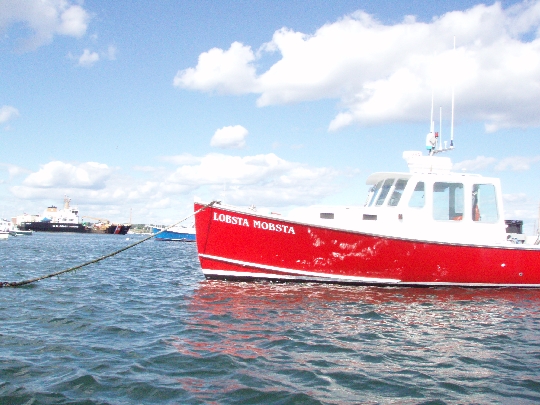 Day 17 - Monday August 20, Rockland to Camden
Well my people told me that the sushi place was not open on Sundays, so they ate somewhere else which was good, but no leftovers :-( This morning we got up and decided to get fuel and water. There was a big yacht there filling up his 1500 gallon fuel tank so we had to wait a while, and I got to meet people on the dock. Rich did an awesome job docking and undocking. We met Phil and Sharon from the CD36, Evergreen, up here in Maine from the Chesapeake. Then we went off to Camden, and got in touch with Bruce and Cathy on the radio and met them there. We got moorings from Willey's. I got to go ashore for a while, then we all had dinner on Mahalo.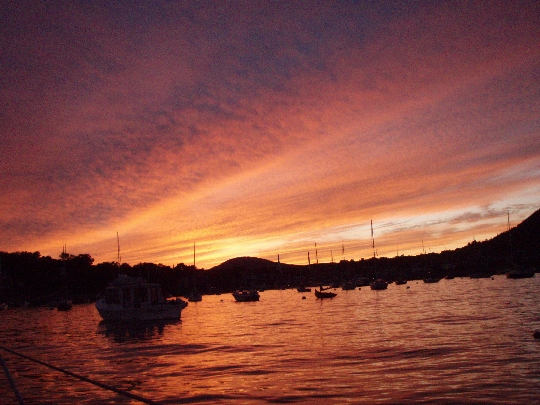 Day 18 - Tuesday August 21; Camden to Warren State Park (Isleboro)
Went ashore this morning for groceries, met lots of nice people on the street. Lots of people tell me I'm too big to be a beagle. My people explain that I'm a mix of something with beagle. Ate some red thing that rolled by on the sidewalk and my people couldn't get me to drop it. I swallowed it so fast even I don't know what it was. Then we motored over to Warren Island State Park where they have free moorings. We went ashore and walked the long loop around the island. It was great to run around in woods and grass, instead of sidewalks. There are about 10 campsites on the island and the only way there is by boat so it's really roughing it. We slept on the warm dry boat after dinner on Realization.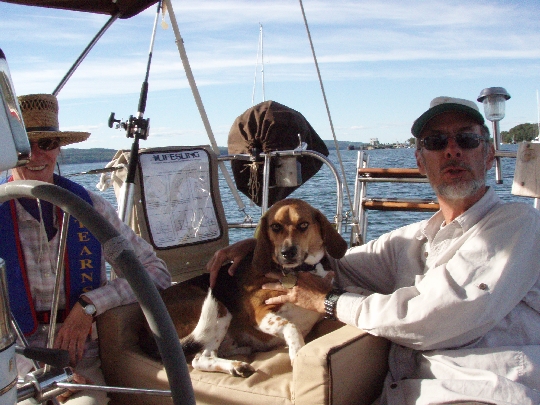 Oh, did I mention I got to go swimming?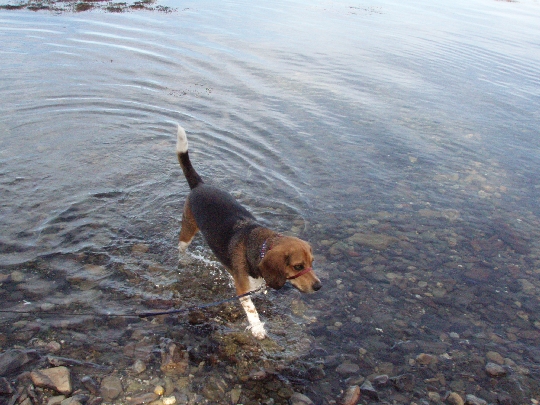 Day 19, Wednesday August 22, Warren Island to Castine/Smith Cove
This morning was awesome, I got to walk around the island again. Takes about 45 minutes to do the loop. I met a blind dog....I guess his people are seeing eye people. Then we had a great sail over to Castine. Realization put up their big colorful sail (asymmetrical spinnaker) and Rich took lots of pictures of them. We rafted up on a mooring at Castine at Eaton's boatyard. Castine doesn't seem like the friendliest place, not pet-friendly, and the stores had lots of postings regarding the internal town politics, where there seems to be a lot of bickering. So we probably won't bother visiting there again. We went over to Smith Cove and anchored near Mike Thorpe and Merrie Bergmann (Adagio, Outbound 44, former Cape Dory owners) but they have a brand new boat so my people put me in my crate while they went over to check it out and have happy hour. My people tell me that their boat is *really* nice and really spacious. It even has a little workshop area. Rich really liked the little workshop area :-) and engine access and storage space. Melissa liked the large head and seperate shower.
Day 20, Thursday, August 23 Smith Cove to Mackerel Cove via Eggemoggin Reach
This morning I got to go ashore in Smith Cove, there was a little park and a path to walk over to another cove. Lots of good smells. Then we left for Mackerel Cove, motorsailing for a little bit, then sailing for a while, then motorsailing again. We saw a few schooners. In Mackerel Cove everyone came over for happy hour, that was fun. Then there were showers in the evening and overnight. No easy place to go ashore here though, a long dinghy ride to the ferry dock.
Day 21, Friday, August 24, Mackerel Cove to Northeast Harbor (Mount Desert Island)
Today there was some fog in the morning but it didn't look too bad so we set off for the ride to Northeast Harbor, which was about 10 miles away. But the fog really filled in and once we got out of the harbor the wind blew and the waves were rough. I did not like it one bit and threw up, then laid on the cockpit floor. It was somewhat stressful for my people, watching the radar, looking for lobster pots, using the chartplotter. Luckily it didn't take *too* long and as we got past Cranberry Island the waves calmed down and there was little fog in the harbor so we could get a spot on a dock. I thought it was great we were at the dock and jumped right off the boat. Adagio was on the other side of the dock so I thought I could just visit them but my people wouldn't let me run amuck like that.
Then, we went to shore and that was good. I rolled around in the grass and enjoyed solid earth under my paws. My people found the store and bought some stuff, and then went back to the boat and came back to shore for garbage and the Post Office, and found a place for dinner. Then it was back to the boat, and back ashore for dinner later. Even though it was a yucky morning it turned out to be a good day with 3 shore visits. After dinner we stopped by another Cape Dory (Al Lawton's boat) which I made myself right at home on and gave that crew of 4 guys (Al, Bill, Bob and Mark) kisses and begged for food. I was a bit whiny as my seasickness had worn off and now I was very hungry. I was restless so my people took me back to my boat where I ate two bowls and then wanted to go to bed.
Day 22, Saturday, August 25th Northeast Harbor
Today was an awesome day as we spent most of it ashore. We went out for breakfast, then took the free Bean Bus http://www.llbean.com/outdoorsOnline/acadia/index.html over to Bar Harbor. That was a great town as most stores let me go shopping too and the restaurant let me eat there on the deck where I got part of a burger and part of a chicken sandwich. Met lots of dogs and people. Then took a different Bean bus back. We did lots of walking around Bar Harbor and I was tired. Cathy and Bruce came over later, then Rich made mussels for dinner. I was a very good dog as I was worn out.
Day 23, Sunday, August 26th Northeast Harbor to Winter Harbor (Shoodic Point)
This morning we went ashore again, and then back on the boat said goodbye to Merrie and Mike who were going to start heading back south. We are going to go over to Winter Harbor which isn't that far, since the weather is still a little iffy today. (Later) The seas were kinda rolly out there today, I didn't like that much, but the harbor was okay. We saw a big boat, and found out by listening to another radio conversation that it was a NOAA research vessel out looking for turtles and other sea life and documenting it. My people sailed most of the way over from Northeast Harbor. We got moorings from the Winter Harbor Yacht Club in the "Sand Cove" part of the harbor. It's a nice yacht club, beautiful old building. My people took showers, then we (with Bruce and Cathy too!) walked a long walk into town, where we got ice cream, and the nice lady there gave me a big bowl of water. There was also an IGA so they could do a little shopping. Then a long walk back to the boat. Then dinner and a good night's sleep.
Winter Harbor: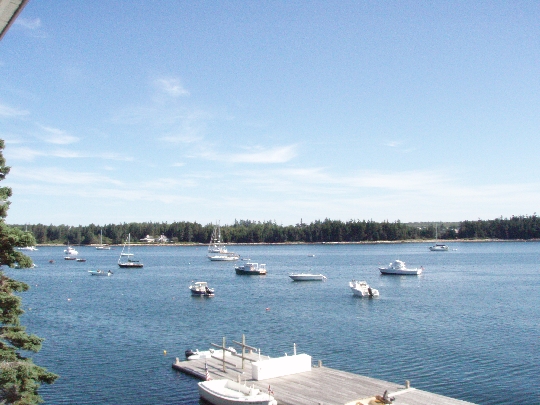 Winter Harbor Yacht Club: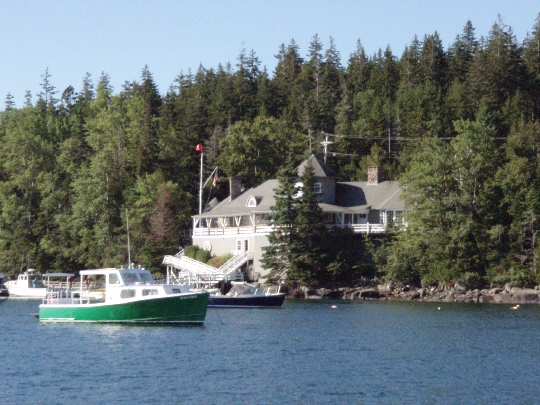 Day 24 - Monday August 27 Winter Harbor to Frenchboro, Long Island
On this morning's walk ashore we met a nice older basset hound with lots of drool. Then he shook and the drool went everywhere, that was cool. We had a nice sail - my people tried their new big colorful sail today, but they couldn't go the direction they wanted so it was only up long enough for Bruce to take some pictures of it from their boat. In Frenchboro, we found a mooring with a red ball pickup, but it was right next to a big boat (too long for it's mooring) and my people were worried it was too close. Melissa got in the dinghy with Bruce and Cathy to go scope out another one and I got really worried about them, they left me on the boat with Rich and I let the whole anchorage know it. They decided to stay put and we went ashore for lobster dinner. At around 10 pm the large boat near us swung around in the light wind and their davits hit our shrouds. I barked. It must have worked as it didn't happen again through the night though Melissa didn't sleep well after that. Next time, no staying in Frenchboro unless we can get one of the three outside moorings.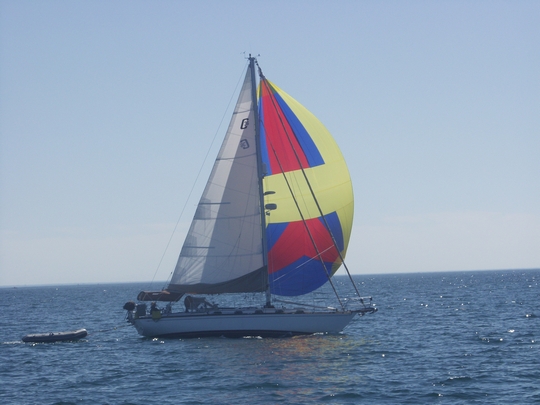 Day 25 - Tuesday August 28 to Sawyer Cove (NW side of Mount Desert Island) in Blue Hill Bay
We had a nice walk ashore in Frenchboro in the morning, then motored up Blue Hill Bay due to lack of wind. We saw lots of dolphins and seals. We anchored first in Pretty Marsh Harbor which had excellent holding but was exposed to the Southwest and the winds and picked up a bit. Cathy and Bruce preferred Sawyer Cove so we moved to the cozier cove. We had dinner over on Realization and a quiet night with no worries of another nearby boat. No public shore here though :-(
Day 26 - Wednesday August 29 to Blue Hill Harbor (KYC)
In the morning a guy from the large trawler who was the third boat in Sawyer cove came over to say hello, he used to sail his 1986 Cape Dory 36 to Maine from Falmouth, Mass, but now they have a power boat. We had a short downwind sail to Blue Hill Harbor, we saw a schooner under full sail but that was about it. We got a mooring from the Kollegewidgwok Yacht Club (who thankfully goes by KYC). I got to go ashore there and walk in the woods, then we took a long dinghy ride to town that you can only get to at 1/2 tide or more. We walked a lot and my people went into some stores. Then Bruce and Cathy came over for an early Thanksgiving dinner (turkey, stuffing, cranberry sauce, pie, salad).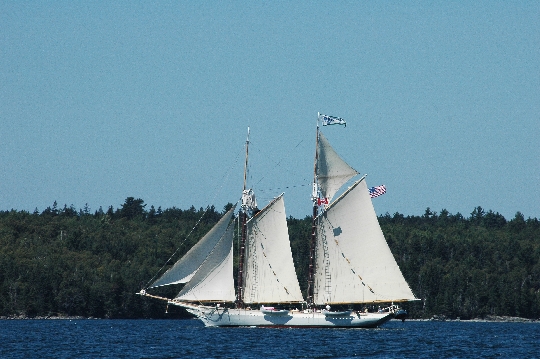 Day 27 - Thursday August 30 Blue Hill Harbor
I got Melissa up at 6 am. There was lots of fog then and it looked like a yucky day so we all went back to bed. However when we got up at 9, it turned out not to be a bad day, but we decided to stay put anyways. We went ashore for a nice walk from the yacht club, then got fuel and water. Then we dinghyed to town and ate a late lunch. Melissa found free internet in the harbor so got caught up on email. Cathy and Bruce came over for drinks and snacks. I think we are never getting off this boat.
Day 28 - Friday August 31 to Benjamin River on Eggemoggin Reach
After a nice walk this morning, we headed south on Blue Hill Bay looking forward to the rumored North winds behind us, which of course never materialized. Beginning to wonder why we have sails on this boat my people always seem to be motoring. There was fog as we got more south but nothing to serious. Rich thinks the issues with the intermittent radar are is the circuit breaker going bad so he will replace that someday. We stopped at the Wooden Boat School, which was quite interesting. Classes were going on so we couldn't go in but we could watch. I met a dog there. We walked around the grounds and I marked them for future reference. Rich wants to take a class there someday. There was some drizzle today but nothing serious. We then went on to Benjamin River, Cathy and Bruce were already there. We found a mooring and went ashore for a walk. Later it rained some more so my people put me in my crate when they left for dinner. Something about not having a wet dog inside the other boat. Doesn't everyone love a wet dog?
Day 29 - Saturday September 1 - Benjamin River on Eggemoggin Reach
This morning at 3 am we were all awakened by the bilge pump coming on. That's the thing that pumps the water out of the cavity below the floor of the boat. Normally there shouldn't be much water in there. So it was a little concern, though my people quickly figured out it was nothing serious, one issue was the plug had come out of the icebox so the melted ice had drained in there. So we went back to bed to figure out more in the morning. We slept in, then they checked out every seacock and water tank and also found that the quarterberth tank leaked a little when full, so switched to start using that tank before more leaked, then found that the valve controlling it also dripped, so Rich tightened that. That seemed to explain the water in the bilge, and we've had no issues since. We took a long walk ashore, and Bruce and Cathy came over for hot dogs for dinner. It was a very clear night and we could see tons of stars, and Jupiter.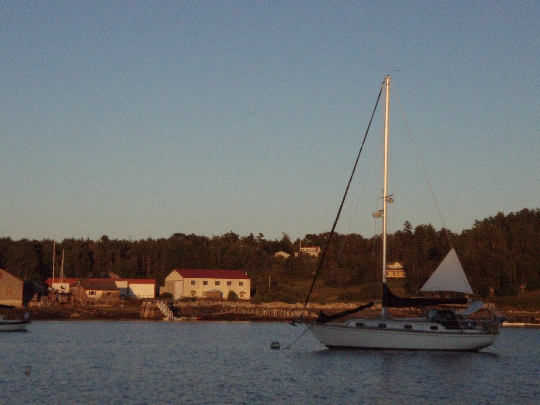 Day 30 - Sunday September 2 to Buck's Harbor
We motored the short distance to Buck's Harbor, got a mooring, and went ashore to do laundry. I got lots of shore time as my people did 3 loads, went to the store, and took long showers. There are two Scotties ashore there who bark a lot, but the owners are really nice and kept coming out to see me at the picnic table. Another Cape Dory 36 came to the dock and I thought it was mine so wanted to get on it. We had steak for dinner and watched a movie. It's weird not watching some TV every night.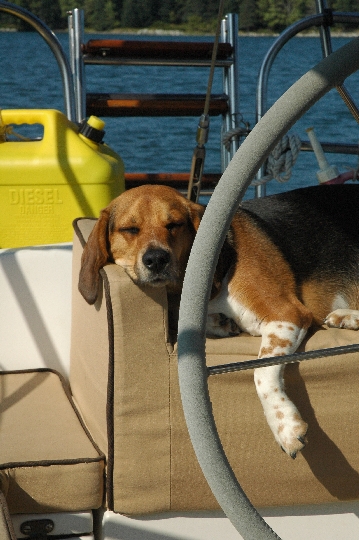 Sunset at Buck's Harbor: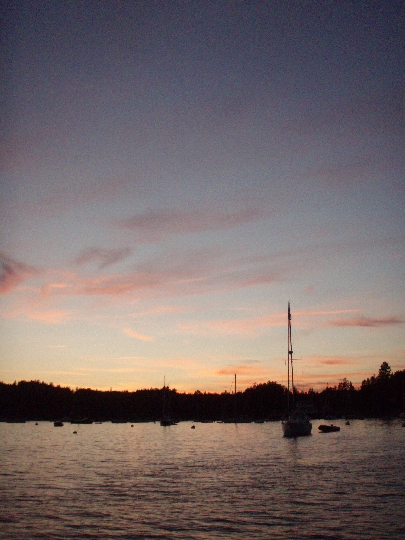 Day 31 - Monday September 3 to Northwest Harbor, Deer Isle
Went ashore for breakfast, and my people decided to move to a new harbor. Cathy and Bruce were also going to head South to get a jump on their trip to Provincetown tomorrow or Wednesday. So we said goodbye to them this morning, though I didn't know I wasn't going to see them again at the time. Of course the wind was coming from where they wanted to go, but decided to beat into it anyways, which is very tiring and makes for a long sail. (This is because you cannot sail into the wind and have to sail at 45 or more degrees from it, and tack back and forth.) They did that for a while but decided to motor-sail the last couple of miles as the wind and seas were picking up as predicted. Northwest Harbor was a nice harbor protected from the wind and waves, and only one other boat was at anchor in there. There were porpoises swimming around the harbor at sunset. There was no easy public landing here though, so we had extended "fiesty time" tonight. Got very cold when the sun went down so we hunkered down inside.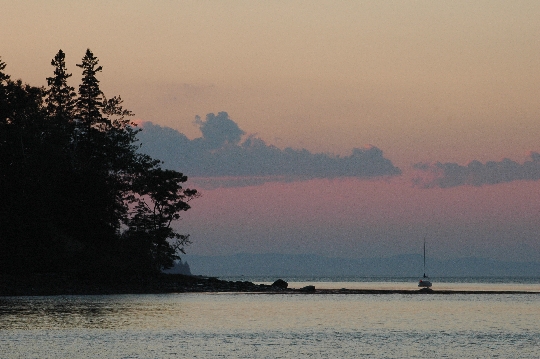 Day 32, Tuesday September 4, to Isle Au Haut
We picked up the anchor this morning in 18 knot winds - that was no fun. We headed south and went by Stonington but there was no good place to stay. We did see Solmar (Robinhood 36) and they were headed toward Belfast. We decided to try a different anchorage and headed to Isle Au Haut thoroughfare. Though the winds and seas were getting nasty outside, it was flat and quiet inside the anchorage where we picked up one of the 4 guest moorings. They have a soda bottle attached where you put the money for the night. We had a nice walk through town and stopped at the store and got ice cream. Later, some kids were going around checking their lobster traps, while a 4th kid was sitting on the bow filming them. Maybe for some school project? Then they came over and wanted to sell us lobsters they found. I barked at them as their motor was loud when they came up to the boat. My people agreed to buy lobsters from them, figuring they'd support the local kids. When they came back with the lobsters the price was a little high, so they got no extra money. I did not know what to make of these live things on my boat. My people kept them in a bucket of seawater until dinnertime. I kept growling at them and checking them out and jumping when they would move. Then they destuffed (ate) them. That was weird.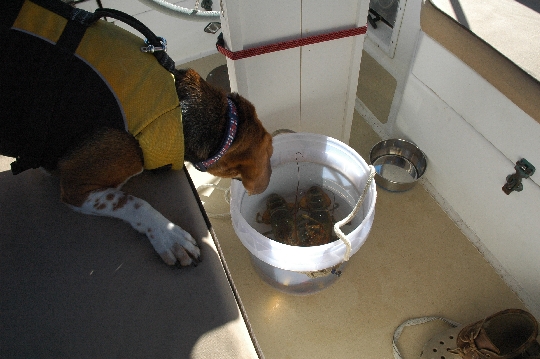 Sunset on a CD30-Ketch, at Isle Au Haut: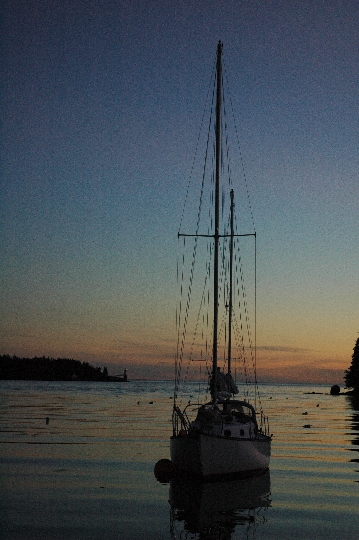 Day 33 - Wednesday September 5 to North Haven (Fox Island Thoroughfare)
This morning I had good shore time while Melissa went to the library to take care of some work email, and we stopped at the store. On the dock as we were going back to the boat we saw a woman lobsterwoman going out to her boat. Not until we were pulling out of the harbor and so was she on "Mattie Belle", that my people realized it was Linda Greenlaw, of "The Perfect Storm" fame. She was the female swordfish boat captain on one of the other boats talking to George Clooney's character on the radio. She has written her own book about swordfishing, "The Hungry Ocean" which we have aboard, so it would have been cool to get her autograph. She has also written a book about lobstering, and a cookbook, and a new novel. She grew up and now lives on Isle Au Haut. Anyways, she seems like a neat lady, I bet she likes dogs. Wind was on the nose so we motored to North Haven. Found a mooring, but couldn't hail J.O. Brown's Boatyard on the radio so called them on the cell. Not particularly friendly. We went ashore and the town apparently shut down at labor day - the restaurant there is only open July and August, and nothing else was open and not many people were around. The market had closed for good. Even the dock at the boatyard had a sign "No visitors." One of the reasons why we stopped here instead of Winter Harbor was the cruising guide said it was a neat little town. It sure looks quaint from the water. But we won't bother stopping here again, at least not "off season".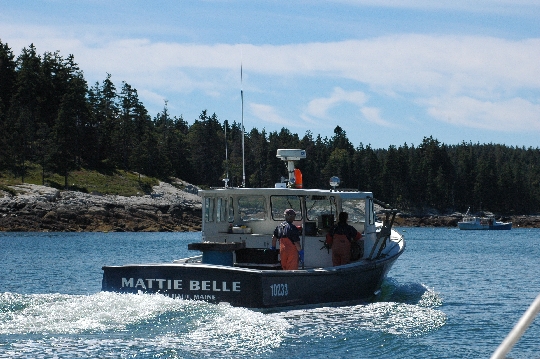 At least we did see a schooner sail through the thoroghfare: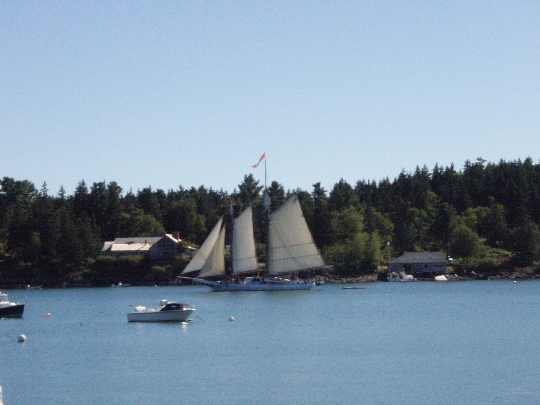 And there was a cool sunset: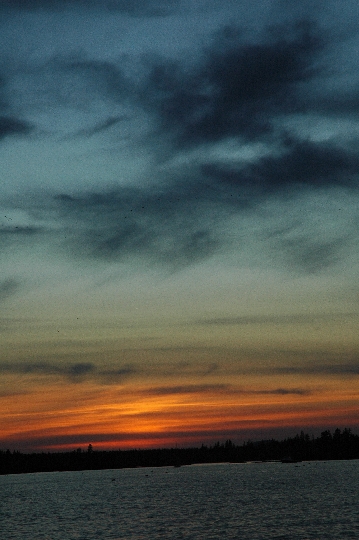 Day 34 - Thursday, September 6, North Haven to Rockland
We sailed over to Rockland today, had a very nice sail until about 1.5 miles out when then wind picked up to 20-25 and the seas likewise. My people shortened sail and turned on the engine. Our friend's mooring had someone on it, that was okay though as we got a mooring from Rockland Public Landing that was closer in (so less bumpy) and a shorter dinghy ride to shore. We went ashore for a nice walk, and late lunch at the Black Bull. Dinner of pasta back on the boat later after showers. It was cold so my people got out extra blankets for the night. I helped keep the Vberth warm though.
Day 35, Friday September 7, 2007 Rockland
We stayed in Rockland today, weather wasn't great and my people wanted to try the Suzuki restaurant for sushi for dinner anyways. We went ashore for breakfast at the Brass Compass Cafe and Rich bought a new circuit breaker for the radar at Hamilton Marine. It's been been flaky about not turning on and in Maine radar is very handy. I napped, but that seemed to fix the problem. It is actually kind of hot today but windy.
They left me on the boat when they went ashore for dinner. I made quite the fuss at first. I'm so used to being with my people 24/7 that I get a bit of seperation anxiety now. Also, I think they must have lost our house or something because we are just staying on this boat every night. That's okay, I'm with my people, and it's okay most of the time when it's not really rocky.
Today my people also met some nice people from "Fiesty", a Nonsuch, from Jericho, VT, where they used to live before they got me. They sailed their boat here all the way from Vermont, down the Hudson River. They like Maine so much they are going to keep the boat here, at least for next summer. We hope to see them again next year.
Day 36, Saturday September 8, Rockland to Tenant's Harbor
Today after a shore visit and stop at the bakery we left to start heading home. It was a bumpy lumpy ride right into the wind down the Muscle Ridge Channel. There was one boat tacking back and forth forever but the rest of us boats motored into it. I spent most of the time on the cockpit floor, and some time next to Melissa half on her lap. I mostly slept. Rich couldn't let the autopilot drive as there was so many lobster pots. We decided to stop at Tenants Harbor and not Port Clyde as the wind was from the SW and the seas were so rocky. We went ashore, Cod End was closed for the season (though someone came out later to get their money for the mooring) but the store was still open which was good because we needed some food. We had steak for dinner, and a quiet night.
Sunset through the rigging at Tenant's Harbor: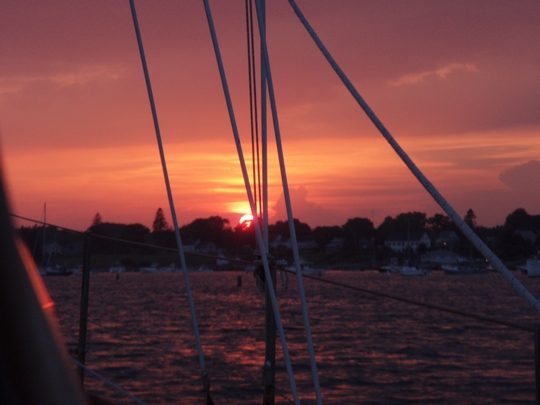 Day 37, Sunday September 9, Christmas Cove (Damariscotta River)
Walked ashore this morning, the town was kind of quiet. There was a nice NW wind in the harbor, so we thought we'd have a good sail Southeast but shortly after we started the wind died. It was drizzly and overcast and dreary. We had an uneventful motor to Christmas Cove and picked up a mooring. We took a nice walk ashore and explored. Rainy evening. I napped.
Day 38, Monday September 10, Christmas Cove
We went ashore this morning and my people took showers. It was kind of foggy but was supposed to clear up some by the afternoon. The afternoon came and it only got worse, so we stayed put. Then a huge (80') yacht came in and picked up the mooring behind us. Luckily they only stayed for a few hours, they were just visiting with someone who had a summer home there. It's such a small harbor it didn't make much sense for them to stay. But as they were leaving they got hung up on one of the many lobster pots in the harbor entrance. Not that we were upset about that or anything, though we did feel sorry for the crew member that the owner made go overboard with no wetsuit into the very cold water to untangle it. We were getting quite bored stuck inside the small boat all day so we decided to play some poker. Melissa wouldn't play with me anymore, accusing me of cheating, as I was winning big-time.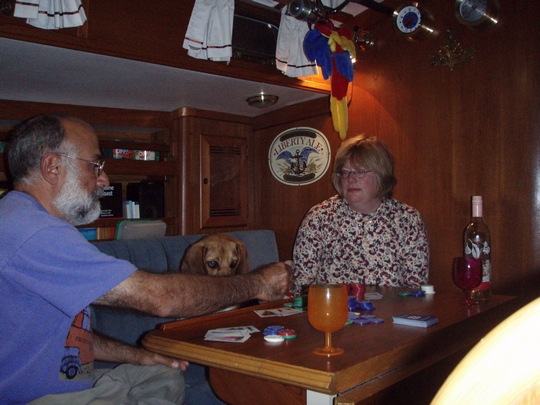 I mean, doesn't everyone get a royal flush?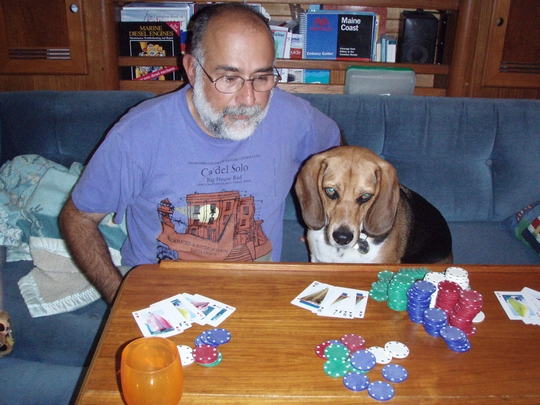 Day 39, Tuesday September 11, to Ebencook Harbor
Today we motor-sailed over to Ebencook Harbor off the Sheepscot River. We got a mooring from the Boothbay Region Boatyard, and the launch came out to get me. The launch driver really liked me and fussed over me a bit. We took a nice walk to the store and got lunch and other stuff. Then took the launch back to the boat just in time for the rain to move through for the rest of the day. We huddled below, I napped and snuggled against my people to keep them warm. They read, then Rich made a nice hearty soup to take the chill off.
Day 40, September 12 to Robinhood (Riggs Cove)
It was really windy today with a small craft advisory for winds and seas, so my people just went the short distance over to Robinhood Marine, because Melissa had the idea of going out to the Meetinghouse for dinner. However, the sun was out all day, it was great to see the sun again, and I baked a lot in the sun on deck. We had a nice walk ashore before they stuck me in my crate while they went out for dinner. Here was a house on the Sheepscot, with a sculpture of a dog or a seal or?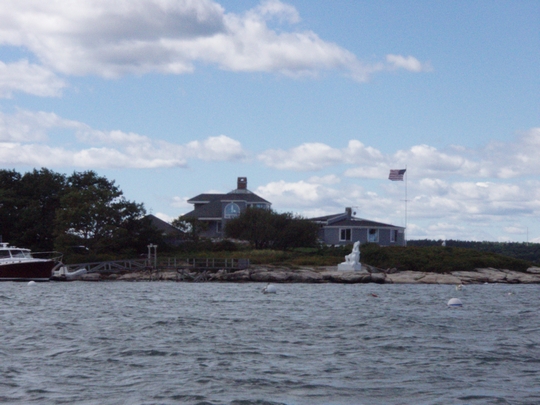 Day 41, September 13 Robinhood to Falmouth
After breakfast had a nice walk ashore while my people took showers. We decided to head to Jewell Island, as it was Thursday, so shouldn't be crowded as it usually is on weekends. We had a nice sail over from Cape Small, and saw a pilot whale surface a few times as we got near Jewell. However, even though it was after labor day and a weekday, the tight harbor was full! I could smell land though, and it was exciting, but just a tease. My people debated over where else to go then just decided as it was already 4 pm, and they were so close to home, let's just go back. A day earlier than planned, but still stay on the boat just on our own mooring. So, we went back to Handy Boat, and got the launch in with the first load of dirty laundry. Then we found our truck, which started right up, and went for a short ride. They left me in the truck to guard it while they had dinner at the Foreside Tavern. I never took my eyes off the door of the restaurant while they were in there, I was so good. I got steak and bread when we got back to the boat because I was so good. Then we went to bed.
Day 42, Friday September 14 Falmouth to home
This morning we brought another load of stuff ashore, got bagels for breakfast, and then drove around a bit while my people did some errands. I like riding in the truck. Then back to the boat again, while my people cleaned up the boat and got the final round of stuff off it. Back to shore and the truck again, where I curled up for the 2 hour drive home. I was pretty glad to be home, and get a walk around the neighborhood. Our house was exactly how I left it. No one cleaned it while we were gone :-(