Nemo's Adventures in Maine Dlog
Day 1, Friday 8/11/06 Mattapoisett, MA
My people brought me to my boat tonight around 7 p.m. I noticed a couple of new things like yellow jerry cans of diesel fuel and my dinghy deflated in a bag on the cabintop. I don't know what's up with that. The boat seems a little lower on the waterline too as it's loaded with food, fuel, water and stuff my people seem to need. Why they need 4 cruising guides to a place called "Maine" I'll never know. We settled in the Vberth for the night early, which is fine with me. I love the vberth, it's like a dog den with my people in it.
Day 2, Saturday 8/12/06 Mattapoisett, MA to Provincetown, MA
My people got up early and had me ready for the first launch at 8 am. Mom took me ashore where I did all the usual things. Back on the boat Dad had it ready to go as soon as we got back, dropping the mooring around 9 am. Something about having to get through the canal with the current or something. We had somewhat favorable winds to sail to the canal but you have to run your engine through the canal. The winds get flukey in there anyways. Because I hadn't eaten anything I decided to throw up in the cockpit. I don't get why my people make a fuss over that and clean it up. I like the canal because you can smell land and watch the people walking and riding bikes along the shore. Coming out of the canal, the winds and current were opposing, so the waves were nasty! The winds were coming right from Ptown, and we needed to get there to get a good nights sleep, so we motorsailed. Once we got a mile or two away from the canal the waves calmed down a bit. It really was a beautiful day, warm but not hot and a bright blue sky. Perfect for napping in the sun.
Got a mooring around 4pm from Flyer's Marine . They have a launch which is really cool because I really want to walk around. My people went with me. They bought some pastry's for breakfast, some cheese for me to eat in the morning so we don't repeat the vomiting (and they say dogs aren't smart - now I get cheese every morning :-) and a latch for the cabinet that sometimes opens. It's the cabinet with the knives and my people didn't want that opening underway. I got to walk all around town and see the sights. There's a lot of people in Provincetown, it's some kind of Jazzfest. I'm not sure why I'm getting an extra long walk. I'm good and tired by the time we get back to the boat. But my people made lamb for dinner which is one of my favorites. They we snuggle in the vberth early. My mom doesn't seem to get much sleep, I think she's anxious about something. Me and Dad sleep just fine though.
Day 3, Sunday 8/13/06 Provincetown, MA to Gulf of Maine. No shore :-(
The alarm went off at 5 am. What's up with that? My people just don't get up this early. We drop the mooring by 5:40 just as the sun is rising. It's peaceful and calm within the harbor. As the sun rises and we get out into the ocean though it gets windy and bumpy. My people raise the big sail, but not all the way, with 1 reef. They motor sail for a bit, and around 8 am we see 2 whales off our starboard. Well, the tails of them, and the water coming out the blowhole. That was cool. Later we saw some dolphins jumping. They were having a good time. My people shut the engine off and sailed with 15-20 knot beam wind. However the waves were also off the beam and breaking often and pushing us around. We had lots of weather helm we could not seem to fix. The autopilot couldn't steer and neither could my people very well. They winds were gusty and waves were not helping. So after a couple of hours of that my people decided to drop the main and motorsail with just the yankee. That got a lot more comfortable and easy to steer and the autopilot could take back over. We made it through the Boston shipping lanes without seeing a single ship, in fact seeing hardly any boats. One sailboat and one fishing boat. So they decided to start napping in shifts then. When mom woke up from her 2 hour nap, the waves had calmed down quite a bit and weren't breaking so often, so that was a relief. Then we saw a shark...or something with a dark floppy dorsal fin. He came right by the boat, and we could see him for a few minutes behind us. As the day progressed the winds and waves died down so that by sunset my people decided to drop the main as the wind was shifting to directly behind us, but less than 5 knots, so they didn't want to worry about the main in the dark especially if it wasn't really helping. They motorsailed with the yankee up through most of the night until the yankee just flogged as well.
As it started to get dark I kept looking for land but never saw any. Where are we going? I'm confused. But oh look - about 5 flies appeared out of nowhere and chasing them around the cockpit kept me entertained for a bit. We could hear the coast guard on the radio almost the whole trip. Since the motor was running anyways, my people turned on the radar after dark. As we started to get about 50 miles from Maine we started seeing fishing boats on the radar and on the horizon. Overnight my job was to keep the off-watch person warm in the starboard settee for their 2 hour nap. Every two hours or so my people would change places. My cutie-sleep keep getting interrupted so I didn't like that too much.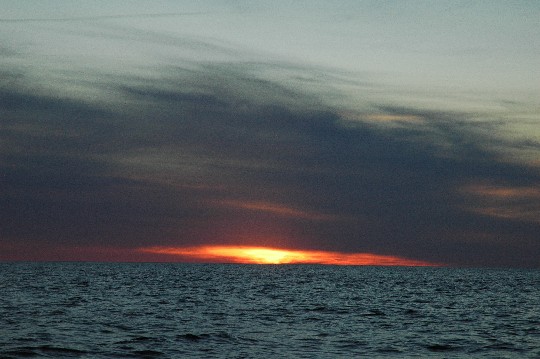 Day 4, Monday 8/14/06 Gulf of Maine to Frenchboro on Long Island, ME
Mom saw a lighthouse in the middle of the night and got really excited. Even though we were still 40 miles or so from the port we were going to, we were about 20 miles from land! I don't know who was more relieved to see land again, me or mom. When I got up in the morning, and my people put me up on deck (teathered of course) and I could see land I was very excited. Then we started seeing lobster pots and knew we were getting close! Wind picked up a little as the sun came up to 8 knots apparent off the port quarter so continued to motorsail with the yankee and the engine running at lower rpms to keep the speed at 5-6 knots. My people just wanted to get there and get settled before the front that was predicted to run through that afternoon came in.
Around 10 am got a mooring in Frenchboro , which is a cute little fishing village with a well protected harbor. My people tried calling the mooring people using both the cell phone and the VHF bu they didn't respond. Since a front is supposed to move through tonight/tomorrow with SW winds and thunderstorms, it's perfect. It's a beautiful day. Shortly after we arrived a Cape Dory 27 named Festina arrived towing a dingy named Lente. My people inflate my dinghy, lower it, and then motor me to shore. I'm so excited to be on land I can't contain myself. I'm smelling everything, rolling in the grass, eating the grass, running, it's great! My people pay $20 for the mooring. However after the walk I'm just as excited to get back into the dinghy and back onto the boat. So I guess it's not that bad. However something seems wrong with the dinghy motor as it's not running right - it only works with the choke on. Dad is frustrated with that. It has always worked great before. We saw a lobster boat named Renegade, hopefully we will get a picture of that to post on the Renegade Cruisers web site.
My people celebrate with Rum and Pineapple back on the boat at noon. Then they shower, and we all sleep in the vberth until about 5 pm. Get up and make dinner, then back ashore for another walk. I love this place!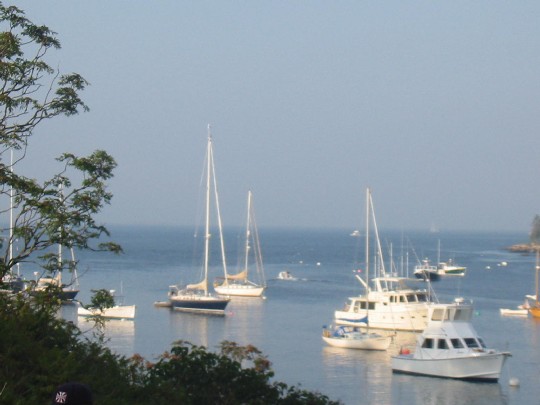 Day 5, Tuesday 8/15/06 Frenchboro, ME
It's rainy and foggy today. Weather radio predicts thunderstorms and hail this afternoon, so it looks like my people are going to stay put. Looks like all the other boats are staying put as well. My mom is bummed that although she has cell phone access, the internet part isn't working. She's kind of an email junkie and promised to check in with work so she'll have to try again in the next port. I asked her to start typing my Dlog (dog-log) though before I forget all this stuff.
(later) Well, there's a benefit to having a dog aboard (only one?) It gets my people off their lazy butts and they walked around the island. Guess what they found? A library with High speed internet access so mom could check into work. Also a nice gift shop with hand made things from local artists so of course mom had to buy something. My people ate lobster tonight, right here in the little harbor, with lobster that tasted like it crawled from the bottom right to their plates. Or so they tell me. I didn't get any. The fog lifted around 4 pm and it was a pleasant but cold night. My people are glad I'm around to keep them warm. Oh, that diesel heater helps too.
Day 6, Wednesday 8/16/06 Frenchboro, ME -> Northeast Harbor on Mt Desert Island
My walk ashore this morning, I met the two labs (1 gold, 1 black) from the canadian boat next to us. They were the two that were having a special moment in the dinghy last night that cracked my people up. Dogs have such class.
Not much wind this am, so motor/sailed the short trip to Northeast Harbor . Dad tried to fish but was unsuccessful. Acadia National Park/Mount Desert Island is just beautiful. The harbor is very well protected. Moorings are $25. The dinghy dock though is very crowded which frustrates me as we try to get to shore. My people found me a bakery and a grocery store and a marine store. I napped for the rest of the day.
Day 7, Thursday 8/17/06 Northeast Harbor to Southwest Harbor via Somes Sound.
The dinghy dock was less crowded this morning. I had a good walk while mom did more shopping. Then, my people got fuel and water on the way out of the harbor at Clifton Dock. They had good timing and Dad docked really good. I had to howl though as we docked, don't know why, but it was fun. Then my people motored (no wind) up Somes Sound to the head, turned around and saw the same scenery again, so I napped the way back. It's really beautiful but once I'd seen it once...
Then my people got a mooring in SW harbor , from Hinckley Yachts. It was $35. From there it was a long hot walk (2 miles) to town, but we got ice cream when we got there so that was okay. We took the free LLBean bus back though. Then I slept away the rest of the day in the cockpit. My people had cocktails, something about their 15th wedding anniversary or something. Mom could get wireless from the cockpit, but only sporadically, so I had her write more dog-log.
Day 8, Friday 8/18/06 Southwest Harbor (MDI) to Buck's Harbor via Eggemoggin Reach
My people took me ashore to the Hinckley yard so that could take long hot free showers. Then we got underway by 9:30 and motored/motorsailed through Blue Hill Bay and the Casco Passage and then up Eggemoggin Reach. It was boring and I slept most of the way. Except by the bridge we went under, where I could smell land so I woke up and stretched. The winds varied from none to 19 knots. Buck's Harbor is beautiful, and my people paid $28 for a mooring. We got here around 2:30. There are 2 nice black dogs at the marina. We walked to a market where my people bought steaks and scallops, and we talked to a couple that also had beagle/bassets that they said looked just like me. We talked with the couple from 'Scrimshaw', a Cape Dory 32, who have been cruising for 60 years. My people were going to do laundry but decided to wait until the next port where they are hoping there's more than one washer. Today is another beautiful day but the forecast doesn't look to good starting tomorrow night for a few days.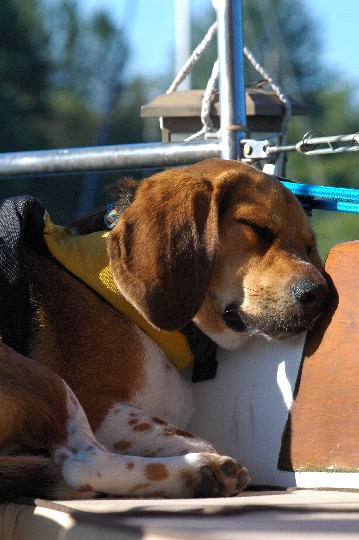 Day 9, Saturday 8/19/06 Buck's Harbor to Rockland, ME
My people got me up too early this morning. Something about some front moving through this afternoon and they wanted to get settled in Rockland before then. The wind was on the nose, again, though they did get a good sail in for the last hour or so.
Rockland is really nice. Mom was happy as they have wireless internet that works on the boat. We walked around and window shopped and looked for a lunch spot. At the 'Black Bull' Mom asked if we could eat at an outside table because we had a dog with us. The hostess said she loved dogs and came out to see me. She said we could go into the bar if we sat at the end and I was good. Then she brought me out a bowl of water and some bacon. I really like this place! My people do too, they get really good burgers (I got some for being so good in the bar). I laid down most of the time except when a Boxer went by - I got really excited and howled because I thought he was my daycare buddy. Most people in the bar thought that was amusing. My people might go back there again tomorrow as it was so dog friendly. I hope so - free bacon!
Day 10, Sunday 8/20/06 Rockland, ME
It is a rainy yucky day today. My people moved moorings this morning to a nice man who also has a boat like ours who is away and let us use it. It was closer in so a shorter dinghy ride. When we got ashore - what a nice surprise our friends Cathy and Bruce (CD32 Realization) were ashore to greet us. Once I took care of business, I gave a proper hello. They are some of my favorite people and they let me give them lots of kisses. The also play with me and don't tell me 'no' all the time like my people do. They had a nice big van and drove my people to do laundry and then to a big grocery store so they could buy me more food. We went back to that restaurant again since it was the only place we could go with me along. Then once laundry was done, it really started to rain just in time to go back to the boat. We had a very wet and cold dinghy ride back, it took 2 trips to get all the people, groceries and laundry back. Bruce and Cathy came too, that was very exciting. Everyone got into dry clothes, and Mom turned on the heat and Dad made hot chocolate.
Day 11, Monday 8/21/06 Rockland to Carver Cove - Vinalhaven via Fox Island Thoroughfare
When I woke up this morning was surprised and happy to see Bruce and Cathy still on my boat. I was so excited to see them again. After breakfast, we left Rockland and had a nice beam reach over to the Fox Island Thoroughfare and were able to sail through most of it until the wind died. We stopped in Perry Creek for lunch, picking up someone's mooring. It was a very pretty spot. After lunch we motored a few miles to Carver Cove, which was also very pretty but much bigger. There were only 2 other boats anchored in there and we found a nice spot up close to shore. My people and I went ashore and found some trails and a million mosquitos. It was a very quick trip ashore as my people got like 20 bites. At night it was so clear my people could look at all the stars. It was beautiful, they say, I napped.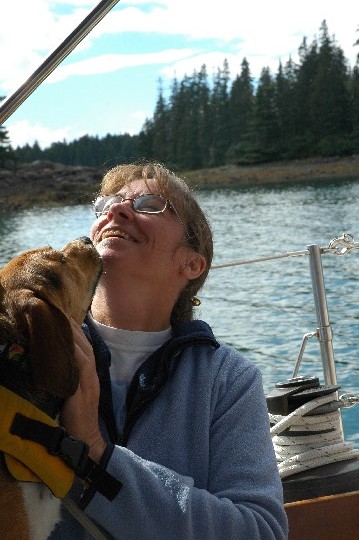 Day 12, Tuesday 8/22/06 Carver Cove to Pulpit Harbor, North Haven
Again it was very exciting seeing Cathy and Bruce this morning. We went ashore again but this time my people loaded up on bug spray so we could stay longer. There were trails so we took a little hike. We had very nice winds and sailed the whole way around North Haven to Pulpit Harbor. My people spent way to much time finding a place to anchor. Bruce and Dad took me ashore for a nice long walk where they found a store. One other Cape Dory came in later and anchored nearby. We saw pretty little daysailers sailing around the harbor.
Day 13, Wednesday, 8/23/06 Pulpit Harbor to Tenants Harbor via Rockland and Muscle Ridge Channel
We left Pulpit Harbor this morning and motored back across to Rockland. There wasn't any wind until we were almost to Rockland. When we got there though, Cathy and Bruce loaded up their stuff and left on the dinghy with Dad. I went out on the bow and watched them go, then ran up and down the sides of the boat looking for them to come back until Mom finally tethered me in so I wouldn't get knocked off by the ferry wakes. When I finally saw Dad come back I was so excited I made so much racket Mom knew something was up. However I was quite disappointed to see he was alone. If I'd had known that was goodbye to Cathy and Bruce I would have given many more kisses.
Then we motored to Owls Head light and then down through the Muscle Ridge Channel to Tenants Harbor . There were a ton of lobster pots through there. Picked up a mooring from Cod End ($20) and had a very nice night there. The people in the boat next door were from Merrimack NH so we talked to them for a while. They really sail out of Robinhood, Maine though.
Day 14, Thursday, 8/24/06 Tenants Harbor to Christmas Cove (Rutherford Island)
This morning we went ashore and got breakfast at the bakery, and mussels and tuna from Cod End for dinner tonight. No wind so we motored southwest from Tenant's harbor, dodging lobster pots. It cleared up nicely by 11 am. We saw seals and dolphins, including one that came up right by the boat. When we turned West, we could actually sail for a couple hours across to Christmas Cove . It is very pretty in there, and they have a nice uncrowded dinghy dock to go ashore. My people ate the mussels and tuna and didn't give me any. I howled at some kids playing around in a dinghy in the harbor - they were laughing and I wanted them to come play with me.
Day 15, Friday, 8/25/06 Christmas Cove to Riggs Cove (Robinhood) ME
After my shore leave this morning we picked our way through the lobster pots toward the south/west again. We skipped right over Boothbay and headed up the Sheepscot River. My people were able to have a nice sail up that, doing 6 knots with just the yankee and the tidal current. We turned left into Riggs Cove and got a mooring from Robinhood Marine . My people found out they aren't actively making any boats now, they are waiting for a new order. My people got burgers (gave me some :-) and started laundry. When Mom went into the bar/restaurant to get more change for the laundry, she found we could all go in, if I was good. So we hung out in the bar for a few hours while one of my people would periodically leave to go do something with the laundry. Then, back on the boat, suddenly my crate got assembled. What's up with this? This hasn't happened on this whole trip yet. But, since I was up all day, playing with people in the bar, and walking ALL over Robinhood (very nice marina) I was pretty tired so got right in and curled up. After a few hours my people came back. Turns out they walked to someplace called the "Robinhood Free Meetinghouse" and had an excellent dinner. Mom got Lobster over fettucine and Dad got rack of lamb. They had a tuna sashimi appetizer and some decandent chocolate dessert. It was nice of them to tell me all this, but they didn't bring me back a crumb.
Day 16, Saturday, 8/26/06 Riggs Cove to Sebasco
When we woke up fog was everywhere, you couldn't see the boat at the next mooring, so my people rolled over and went back to sleep, which was fine with me. Eventually it lifted a little. After showers, my people were able to borrow the courtesy car from Robinhood Marine, and go shopping. I had to promise not to shed while in the car. I did my best but I know a few hairs snuck out.
Around noon, they got all groceries put away and it seemed as though the fog was gone so we left Riggs Cove. Heading south down the Sheepscot the fog slowly got worse so my people put their automatic foghorn and radar on. Since there was nothing to see anymore, I went to sleep. My people only saw a few boats out there. They had wanted to go further today but since they had to go slow in the thick fog only made it to Sebasco Harbor. It had cleared up by then, but they just wanted to stop someplace. Sebasco harbor had a constant roll to it. Not bad, once you got used to it.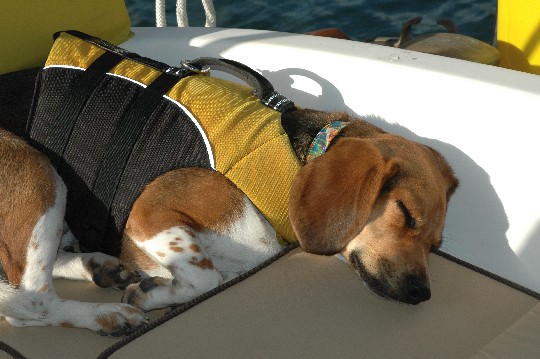 We walked all over the Sebasco Harbor Resort, there was a wedding going on and I thought it would be cool to be in the pictures but my people wouldn't let me.
Day 17, Sunday 8/27/06 Sebasco Harbor to Snow Island, Quahog Bay
Thunderstorms were supposed to move in this afternoon, so my people got an early start and motored (no wind) over to Quahog Bay, and went up the bay to anchor beneath Snow Island. It was absolutely beautiful. We went ashore to "Little Snow Island" which is a Maine public island/camping area. I explored the whole island and found lots of stinky stuff as it was low tide. The afternoon was spent relaxing, my people read and we all napped. It rained from late afternoon on to the next morning.
Day 18, Monday 8/28/06 Snow Island to Portland, ME
It didn't seem that bad today, still overcast, but calm (in the harbor). Once we got down to the mouth of Quahog bay were hit by nasty 5-8' waves. It was leftover from the front that went through I guess, and combined with the ocean swell from the south, and the wind from the north, made for some uncomfortable ride. It was like we were back in Buzzard's Bay! I didn't like it one bit and kept trying to move around the cockpit and my people kept yelling at me to stay down. My people finally got some sail up and us going in a more comfortable direction, but they were tethered in the cockpit just like me now. They decided there wasn't a real good harbor with protection from the South/SE waves and North wind, so they went all the way to Portland. They got a mooring from Portland Yacht Services ($35) and we went ashore. Dad went to his favorite store, Hamilton Marine , which is right nearby. There is also a Maine Narrow Gauge Railroad Museum here. The harbor is a little rolly but since we're from Mattapoisett, we are used to it.
Day 19, Tuesday 8/29/06 Portland, ME
Today didn't look any better weather-wise, so my people decided to stay a day. This morning we walked into Portland to get breakfast, and another place let me go in! Maine Loves Dogs! Then we walked and walked and walked all over the city to find a grocery store. Turns out there was one not far from the marina we found on the way back, after we had found another one. But since we walked for like 2 hours, I napped when we got back.
Then we left the dinghy on the mooring and went to DiMillo's to get fuel, water and a pumpout. That was stinky. Back to the mooring to relax the rest of the day to get a good night sleep. My people say we are getting up early tomorrow to go 50 miles to the Isles of Shoals.
They did put me in a crate for a little while while they went ashore to get some excellent sushi at Benkay Sushi not far from the marina. I was so glad to see them when they got back because I never know how long they're going to be gone. It's never more than a couple hours but I always greet them like it's been days.
Day 20, Wednesday 8/30/06 Portland, ME to Isle of Shoals, NH/ME
Another day of getting up way too early. And another day of motorsailing as the winds, which were predicted to be from the North, were coming from the south, right on the nose. My people kept trying to sail but the ETA of getting there according to the GPS was going to be sometime in the middle of the night. We got there but it's not a particularly dog-friendly place - you can only take your dog ashore on one island far from the anchorage. Since the outboard is running so poorly, we stayed aboard. I kept looking at the dinghy but my people wouldn't take the hint. However, it's a beautiful place, but the most rowdy anchorage we've been in so far. For some reason a lot of the boats seemed to have loud people on board. But when it got dark it got cold so everyone went inside so I could get some sleep.
Day 21, Thursday 8/31/06 Isle of Shoals, NH to Gloucester, MA
We left Isle of Shoals around 9 am and had a beautiful day to go to Gloucester. We rounded Cape Ann and could see Boston! It definitely felt like we left Maine now! The harbormaster in Gloucester was very accomodating, and we happened there on a day they were having a very nice farmers market right by the dock. Nothing for dogs though :-( Also found a bar where my people could get some food and a beer and eat outside with me. The harbor is very well protected. There is a lot of fishing boat traffic but it's not too stinky (bummer).
Day 22, Friday 9/1/06 Gloucester, MA to Plymouth, MA
Today my people got up early to take me to shore. When we got back there was a big white bird (swan) hanging around our boat. He ruffled his feathers and hissed at me. So I howled back. So he hissed back, and I howled back. My people were trying to keep me quiet but this thing would not leave. I'm sure the anchorage didn't mind getting woken up by a beagle howl, right?
We had to get out of here as there is a schooner festival here this weekend. My people wanted to find a safe harbor to be for the weekend when the remains of TS Ernesto hit. They picked Plymouth. On the way there we had a very close encounter with a small whale. Very close - like he surfaced right in front of us. Luckily mom slowed down and turned just in time. It was very exciting and scary at the same time.
We had a following sea, and wind from the right direction today, but not enough of it to move fast enough, so that noisy motor had to run again, though at low rpms so it wasn't that bad. I could get plenty of nap-time in on the way to Plymouth. My people picked up a mooring from the Plymouth Yacht Club for $45 night. We had a nice long walk ashore before my people met Angela and Tom (CD28 Annie Goldie) for dinner.
Day 23, Saturday 9/2/06 Plymouth, MA
Today is very windy and choppy in here as the storm is moving in. We had a nice long walk this morning though, exploring more of downtown Plymouth. Then, Angela and Tom came aboard for a few hours! They bought me greenies! Which I promptly hid around the boat. After a round of kisses, while they talked about boat stuff, I napped. Then I waved goodbye, and my people ran the engine to run refrigeration and charge the batteries, and I napped. I'm really beginning to wonder if we are ever getting off this boat.
Day 24, Sunday 9/3/06 Plymouth, MA
Still here in Plymouth, and the boat still rocking in the chop, though by late afternoon calmed down somewhat - winds only blowing 15 instead of 20-25. My people took me for two long walks in the drizzle and we found a nice park, and a great chocolate store (none for me) downtown. My people read and watched a DVD. I napped. Then they deflated the dinghy and put it on the cabintop in it's bag. Uh - oh - does that mean what I think it means? Last time that happened we sailed for hours and hours and didn't stop. My people tell me not to worry but I am skeptical.
Day 25, Monday 9/4/06 Plymouth, MA to Mattapoisett, MA to home
Up early to hit the Cape Cod Canal while it was still ebbing. Pleasant day on Cape Cod Bay. Through the canal was fairly pleasant but the waves and wind on the nose on the other side exiting it was not. Welcome back to Buzzzard's Bay! Yuck. That's one reason why my people want to move to calmer sailing waters. In Maine (and we hear, the Chesapeake) the waves do not get nearly as nasty as often. Also as it was Labor Day there were a ton of boats out and it looked like at least two races were going on. We spent the time going to Mattapoisett dodging lots of boats and fighting waves and on the nose wind. As we exited the canal, we all waved to Melissa's nephew Patrick who just started at the Mass Maritime Academy , located right there on the canal. Good luck Pat!
We got back, Dad pumped up the dinghy again and took me ashore. I think I recognize this place . Smells familiar. Then he takes me in the launch back to the boat, and my people get everything together that's going off (laundry, food, garbage, stuff) and lock the boat up. We fill the launch will all our stuff. We load it in my truck, and after a couple of hours are back at my house. I run around and inspect every room a couple of times, then do a perimeter check around the yard. Things are okay, so I nap.